Positive Outlook Indicated by Virtual Trade Show
08-Jul-2020
Strong visitor numbers and positive activity at the Print, Sign, Display & Graphics Virtual Trade Show bodes well for business sentiment into the new financial year – and reinforces the value of the innovative online expo in these strange and challenging times.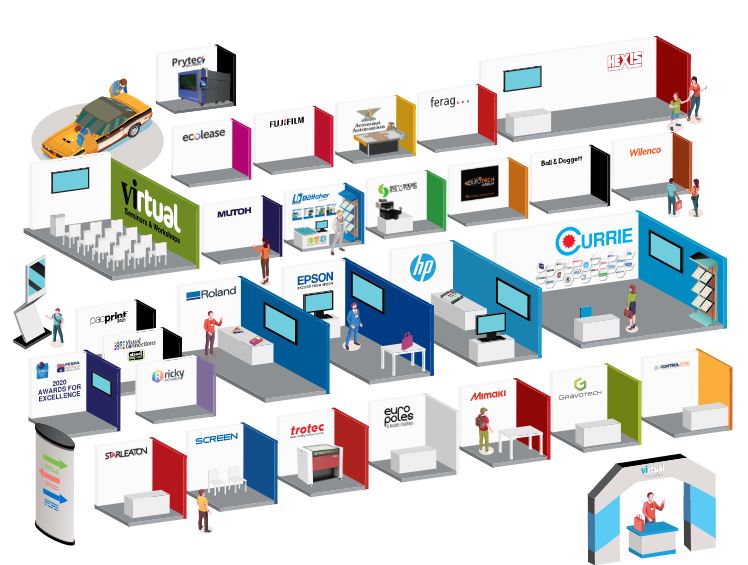 The Virtual Trade Show passed another milestone last week, speeding past it's 8,000th visit, and the constant stream of traffic continues apace. More importantly, with exhibitors across the board reporting positive flow-ons, genuine leads and some early sales, driven by participation in the show, indications are that businesses are genuinely planning for the future.
Unsurprisingly, EOFY activity drove a surge of activity towards the end of June but, with the asset write-off, in particular, set to continue into the 2020-21 year, there's no sign yet that businesses have put their deliberations on hold.
Ecolease Director Marian Taggart-Holland saying the company had an 'extremely busy month' in June, with well over 100 hits on the asset write-off video which featured on the virtual EcoLease stand. "There are definitely a lot of businesses buying equipment," she says.
Though leads are still in progress for most exhibitors, several companies have already made sales at the show, while upticks in website hits, enquiries and sales leads tell a positive story also.
Ian Parsonson from Hexis reported strong activity and sales right from the start of the show, with a particularly good response to show specials, as did Michael Smith from Eurotech, who said the virtual show was a welcome initiative. "It's good to see the trade thinking in terms of innovation," he said.
Ron King, MD of Wilenco, says at least one of the company's recent sales of its featured Rollover lamination tables unquestionably came directly from the Virtual Trade Show, which also drove a 22% increase in hits to his website. Prytec and Sign to Badge Solutions also reported strong leads for their new lasers, with the latter saying it has picked up two new clients as a result of the show.
Brad Creighton, National Marketing Manager, Mimaki, says the company's '6 months cash back' offer on finance was also very well received, generating numerous leads, while Jake Higgins from Roland DG also reported a spike in web visits and sales, driven by its show participation and EOFY promotions.
Ben Eaton, CEO of Starleaton, reported an uptick in activity and enquiries, particularly related to the ZUND cutters which featured at the show, saying it had 'absolutely' contributed to the company's sales pipeline, while Luke Wooldridge from Fujifilm also reported strong interest in 'show specials'.
So, is it as good as a physical trade show? Kelly Tam from Epson says, it's difficult to compare an online show with the 'face-to-face' interaction available at a traditional trade show but, like many others, she says Epson has seen a noticeable lift in enquiries, especially immediately after launch, and has validated those as genuine leads.
Meanwhile, the show itself is generating plenty of interest, with the platform developed by Australian company ControlZone (also an exhibitor at the virtual expo) receiving enquiries from around the world. John Hadfield, CEO of ControlZone, says the company has already sold the technology to event organisers in Belgium and the UK, as well as more locally in Australia, on the basis of its familiar, 'website-like' environment and easily-navigable design.
With the show set to run until the end of September, of course, the story is far from over. Exhibitors continue to refresh their content and offers regularly to keep interest levels up, and new seminar and workshop sessions are to be launched every couple of weeks.
Visual Connections CEO, Peter Harper, says the long-term strategy was quite deliberate in the face of a rapidly changing economic and regulatory environment and uncertainty around the pandemic itself.
"Together with our exhibitors, who have their finger closely on the pulse of the industry, we took the view that any resource we created had to be available in the longer-term – so businesses could come back, time and again as their circumstances dictated, to find solutions to help them recover, rebuild, and create new opportunities into the future," he said.
It seems that 'long view' is proving its worth.
"Time will tell – but every indication so far says it was the right call. Industry businesses remain keen for information, ideas and inspiration…and the Virtual Trade Show is providing a valuable resource."
---